What is Ceramic Hob:
Ceramic hobs  are modern cooking appliances that have gained popularity due to their sleek design and efficient performance. These hobs feature a smooth, glass-ceramic surface with embedded heating elements, providing a clean and minimalist look to any kitchen.
Unlike traditional gas or electric stovetops, ceramic hobs utilize radiant heat to cook food. The heating elements beneath the glass surface evenly distribute heat, ensuring consistent and precise cooking temperatures. This feature allows for better control over the cooking process, whether you're simmering delicate sauces or searing meats.
Advantages of ceramic hobs:
One of the main advantages of ceramic hobs is their easy-to-clean surface. The smooth glass-ceramic top can be effortlessly wiped clean with a damp cloth or sponge, making it a hygienic option for busy households. Additionally, spills and food splatters are less likely to burn onto the surface, as the heat is contained within the cooking vessel.
Another benefit of ceramic hobs is their rapid heating capability. The heating elements quickly reach the desired temperature, reducing the time needed to bring water to a boil or heat up a pan. This speed and efficiency make ceramic hobs ideal for those who value convenience and time-saving in their cooking routines.
Safety is a key consideration with ceramic hobs. Most models are equipped with safety features like residual heat indicators, which alert users when the surface is still hot even after turning off the hob. This helps prevent accidental burns and ensures the hob cools down before cleaning.
Ceramic hobs are also known for their versatility. They can accommodate a wide range of cookware, including stainless steel, cast iron, and ceramic. However, it's important to note that certain types of cookware, such as copper or aluminum, may leave marks on the surface if dragged across it.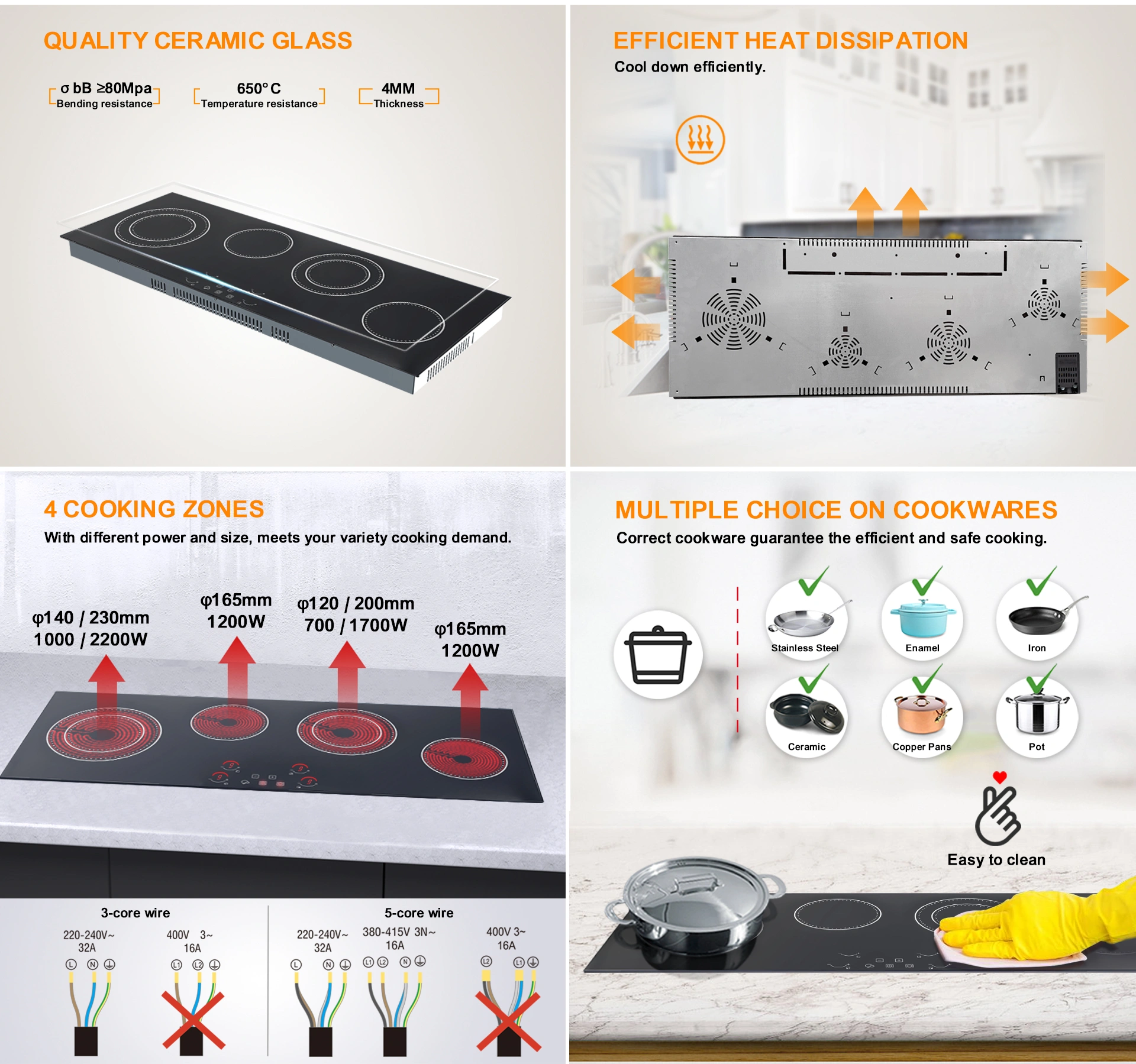 To operate a ceramic hob, users typically have touch controls located on the front or side of the appliance. These controls allow precise adjustment of heat levels and often include additional features like timers or power boost functions.
In terms of energy efficiency, ceramic hobs are considered a favorable option. The direct heat transfer from the heating elements to the cookware minimizes heat loss and maximizes energy utilization. This not only reduces cooking times but also contributes to lower energy consumption, making ceramic hobs an environmentally friendly choice.
In summary, ceramic hobs offer a stylish and efficient cooking solution for modern kitchens. With their sleek appearance, easy cleaning, rapid heating, and safety features, they have become a preferred choice for many households. Whether you're a professional chef or a home cook, a ceramic hob can provide the convenience and performance needed to enhance your culinary experience.

Where you can purchase best ceramic hob with reasonable price?
Zhongshan HEME Kitchen Appliance Co., Ltd. was founded in 2000. It is one of the leading OEM manufacturers in built-in hobs, cooker hoods and electric ovens. Over the past two decades, thanks to the continuous support and unswerving trust of our customers, HEME has achieved the significant growth in the overseas market for years.               
Our factory covers an area of 60,000 square meters with the well-equipped production lines and testing facilities. For serving better our excellent overseas customers, we have established the partnerships with many world-leading suppliers of key components, such as France Eurokera, Germany EGO, Germany Infineon, Italy Sabaf, and Spain Orkli, which guarantee our products can be in line with the international high-end standards on design, durability, energy efficiency, performance, safety and service.
Furthermore, under the strict implement of ISO 9001 and with approvals of CB, CCC, CE, ETL, ErP, REACH, RoHS, SASO, UKCA, etc, we have exported our products to more than 60 countries and regions all over the world, in the meantime, our precise customized products are popular and suitable among the different consumer groups.
The Chinese meaning of "HEME" carries the yearning of people of China and the world for a better life - harmony and happiness. We assure you that we will continue to work toward this goal, and strive to bring quality products and beauty of life to the millions of families home and abroad.
Thanks for choosing HEME as your OEM/ODM supplier.